CataractPhiladephia introduces a superior surgical experience for our Light Adjustable Lens patients.
We are the first and only practice in the region to offer
*ONCE AND DONE: cataract surgery for both eyes on the same day.
---
RxSight Light Adjustable Lens
Serving Philadelphia, Bucks County, Delaware Valley, Conshohocken, Warminster, Montgomery County, King of Prussia and Phoenixville
---
---
The Next Evolution of the Light Adjustable Lens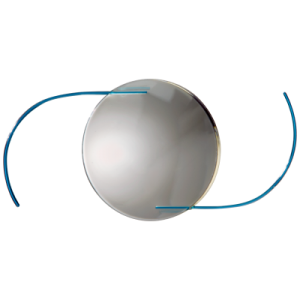 RxSight has enhanced the safety and predictability of their Light Adjustable lens by adding a layer of UV-protection to their groundbreaking intraocular implant. Patients achieve uncompromisingly clear vision and customize their visual results. ActivShield preserves the power and versatility of this technology.
Imagine an implant that can be fine-tuned after cataract surgery. An intraocular lens that can be precisely adjusted to your refractive needs. The Light Adjustable Lens is the breakthrough technology patients and surgeons have been demanding for years. A 90 second in-office "tune-up" eliminates astigmatism and customizes the lens to a perfect focus. This implant is ideal for post-LASIK patients, those who prefer monovision, and individuals who want the sharpest possible vision.
---
The specialized silicone of this implant can be modified using medical grade Ultraviolet (UV) light. Any deviation from target can be corrected after the eye has healed. Furthermore, you can test drive the refractive results and choose the endpoint that satisfies your visual needs.
---
Dr. Lewis introduces the Light Adjustable Lens.
---
How the RxSight LAL works.
---
What you need to know about wearing the UV glasses.
---
Story One
Three Light Adjustable Lens (LAL) Patients
The Engineer
AR was a near-sighted engineer whose cataracts were making driving difficult at night. He longed to eliminate his glasses but wanted to avoid the haloes experienced by his friend who had had a multifocal implant. He choose perfect distance vision in both eyes without glasses using a LAL. After his first adjustment he was thrilled with "the best distance vision he had ever experienced" but wanted more near. The second adjustment gave him freedom from glasses for almost all activities and he elected to lock-in. He had un-compromised distance vision for all activities and was glasses free for all near tasks except for the reading of technical manuals. The LAL allowed this patient to refine his goals and achieve his best result.
The Socialite
LM enjoyed glasses free vision with monovision contact lenses until her cataracts developed. She elected to continue her monovision when a PanOptix was ruled when her macular pucker was indentified. Following her first adjustment LM wanted even more reading vision than she had enjoyed with her monovision contacts. After her second adjustment she said, "perfect, now… lock me in".
The Reader
CV required glasses for distance and near once she reached middle age. After her cataracts developed she sought freedom from glasses. Her astigmatism made a LAL her best option. After her first adjustment her distance and intermediate vision was excellent but she wanted more clarity for reading. After her second adjustment she requested "a little bit more reading". She achieved her personalized refractive solution following her third adjustment and now enjoys reading and driving without glasses.
Conclusion
Unlike any previous intraocular lens, the LAL gives surgeons the ability to achieve their refractive goals precisely. The LAL gives patients the ability to design and re-design their refractive endpoint.
---
RxSight Engineer gets LAL
---
Story Two
Monovision Contacts versus the Light Adjustable Lens (LAL)
Until now, surgeons been unable to achieve the accuracy of monovision after cataract surgery that patients enjoyed before their cataract developed. Despite the most advanced pre-operative and intra-operative techniques, the best cataract surgeons can not calculate an implant power with the same accuracy as contact lenses.
The LAL gives doctors and patients the same accuracy as contact lenses with a non-surgical opportunity to experiment and finally select their ideal reading distance. Many surgeons also feel the LAL provides an extended depth of focus that outperforms contact lens monovision.
For monovision patients who develop cataracts, nothing can compete with the safety, flexibility, and precision of the LAL.
Former LASIK patients and the Light Adjustable Lens (LAL)
Cataract patients who have had previously LASIK surgery are less likely to achieve 20/20 glasses-free vision than cataract patients who never had LASIK. This discrepancy arises from the inability of modern implant calculation formulae to precisely determine the correct implant power in the post-LASIK eye. The LAL addresses the unique challenges of former LASIK patients. In fact, patients with an LAL are twice as likely to achieve 20/20 glasses-free vision as patients with any other intraocular implant.
We prefer the LAL in patients with previous LASIK because we can exceed their refractive expectations
---
Our in house RxSight LDD (light delivery device), shown below, resembles a standard office slit-lamp. It is computer driven and comfortably adjusts the Light Adjustable Lens to your specifications.